Adding intelligence to overhead cranes, trolleys and monorail transfer systems is as easy as 1, 2, 3.
Bumper cars, they are electrically powered "cars" with rubber bumpers surrounding the body. As the name suggests, bumper cars are designed to collide with other cars in a shared space. The rubber diffuses the collision, keeping the occupant safe.
Overhead cranes, trolleys and monorails are not bumper cars. In fact, they might be the most expensive heavy equipment in your possession. While they share the same rails or tracks, they should never come in contact with one another. Applying rubber bumpers is not the way to keep the equipment safe and limit damages, it is better to prevent a collision all together. This is where laser sensors come in.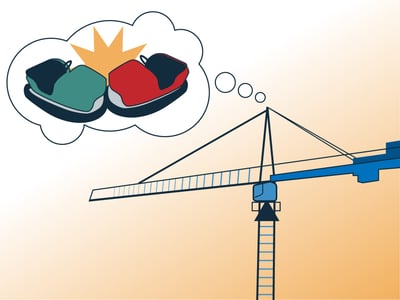 Laser sensors are the smarter sensor solutions to prevent collisions and share information through distance measurement. They are fast, accurate, easy to install, time tested and cost-effective.
Helping cranes "see"
Sensors can be used not only to get position values and diagnostics, but also to simultaneously control motors (start, stop, slow-down) through parallel interface and over all major fieldbus. They can be used over long distances to measure quickly and accurately. Their long distance laser measurement capability reliably detects obstructions, increasing the functionality of your equipment.
Helping cranes "avoid" each other
With the advances in photoelectric technology, precision and accuracy have become very reliable. Optical data transmission means sensors can be used on cranes to detect interference and protect against a collision. With ranges up to 120 meters and a protection rating of IP69K, no job is too big for these new photoelectric sensors. These same sensors can be used as over-travel protection.
Helping cranes "talk"
Witn data transmission systems communications can be made over long distances with no wire. Information is transmitted optically, so a line of sight is all that's needed to transmit data up to 500 meters! And data transmission systems work with all major Ethernet protocols with up to 100mbit/s transfer speed. This wireless communication reduces the worry of downtime, enables cranes to communicate, and allows you to perform remote diagnostics from anywhere with internet access.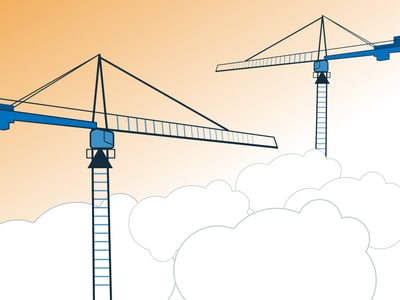 Helping cranes help you
In addition to the speed, accuracy and reliability of laser sensors, setup and mounting are a one man job! Easily adjustable mounting brackets and alignment laser work to your advantage when working in a very high, very limited space. Not only does that make installation easier, but it also means that they can be integrated on new systems as well as existing ones. And when retrofitting old cranes, though the products themselves are competitively priced, the real cost effectiveness comes with the fact that mounting and set up is easy and flexible, which means sensors can be in place and running in a short amount of time.
Smarter cranes with the right advice fast
The correct partner for you will be interested in helping you achieve your goals. Automation specialists understand how to help you achieve reliability, precision and accuracy in the functionality of your equipment. With the right partner you will be pleasantly surprised at the broad variety of cost effective solutions for your overhead cranes, trolleys and monorail transfer systems. Call us at 440-498-8465 or click here to talk with the automation experts at Electro-Matic Products.